Contact us
To Individual customers, gardeners;
Sorry but we have no resources to reply to your questions.
Please contact handling agent of our products.
Email
Inquiries and questions
Commercial Ranunculus growers, Flower Markets, Flower Shop owners
If you are not in Japan, please contact our agent, Green Works, Netherlands.

or please email us with following information.
Company name
Your name
Phone number
Email address

Location of AYA town, Miyazaki prefecture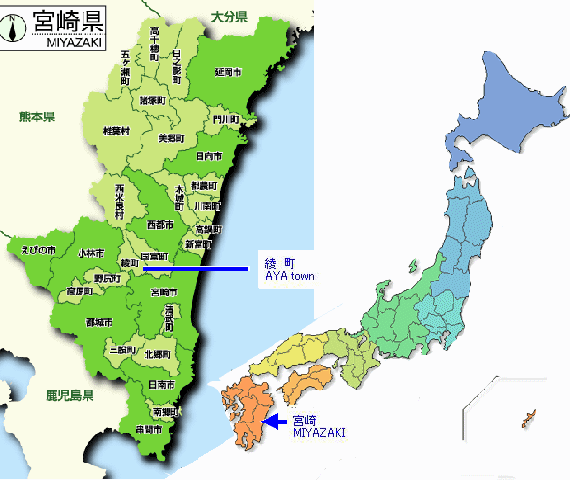 for more details, please check the navi- gation map (right).
Access
By car
50 min. from Miyazaki airport
20 min. from Miyazaki Nishi IC via route no.10
50 min. from Takahara IC via route no.268
35 min. from Miyazaki municipal office via route no.17
55 min. from Miyakonojo city via route no.10
2 hours and 30 min. from Nobeoka city
Please drive (head) for Aya Castle or Aya horse park. Aya Engei is located next to Aya horse park (Baji Kouen), opposite side of the road.
By bus
Miyazaki airport - 12 min. - Miyako City Bus terminal - 60 min. - Aya bus stop (AYA Machiaijo)
It takes about 15min walk from the bus stop to reach Aya Engei.
Please see Aya town official website.